When you Google "Home Improvement" or "General Contractor", you will undoubtedly find a lot of options especially in towns such as Topsfield, Danvers, Boxford, and Rowley.
And, you want someone trustworthy and reliable. In addition to it, you also want someone who will get the job done on time and within budget.
Eddie Mac's Home Improvement, LLC. is a highly preferred general contractor in our quaint towns of North Shore, MA.
Here are some things North Shore residents have to say about us:
I asked Eddie to take a look at my wood floor and the supporting floor joists underneath in the basement for fear that part of my floor was beginning to give due to the age of my home. He came by and assured me that I had nothing to worry about after taking a look. He didn't try to sell me a service I didn't need and even gave me some recommendations on another project outside of his scope. Very refreshing customer service!
– J.B Danvers, MA
We were very pleased with the work done by Eddie and recommend him highly. Eddie gutted and replaced one full bath (upstairs) and one half-bath (downstairs). The quality of the work is excellent. Eddie is responsive to texts and phone calls. His subcontractors were all courteous and professional. Someone came to the house every day (usually Eddie, with one of his subs). This kept the project moving and prevented it from dragging on too long. Eddie and his team left the house clean at the end of each day. His up-front prices were fair and reasonable. When we wanted to make a few changes, he let us know if there was a cost, and we could decide on a case-by-case whether to proceed with the change or not. (For example: We decided to pay extra for a herringbone pattern with floor tile, but we decided not to pay extra for a recessed shelf in the shower.) We are very pleased with the final results.
 – J.P, Topsfield, MA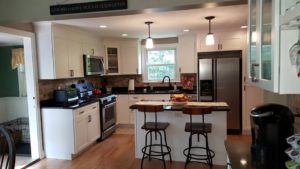 Our Approach
Up to date on technology, Eddie Mac's is connected to you virtually.  Your emails and phone calls will always be returned the same day or by next business day.
Our Story
Eddie Mac's Home Improvement is a family operated business and we are fully licensed and insured.  We have been in business since 2005 and have over 25 years of experience.  We currently serve Massachusetts North Shore area (Essex County) including Danvers, Beverly, Peabody, Salem, Topsfield, Ipswich, Newburyport, Wenham, Hamilton, North Andover, Middleton, Manchester-by-the-Sea and many more.
Meet Eddie Mac: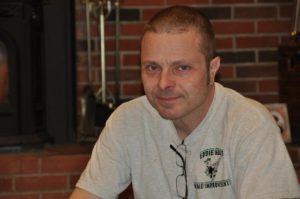 Featured on Boston Voyager